Three highly efficient BOBST folder-gluers give WELLSTAR full flexibility in production for e-commerce packaging

Mex, Switzerland, 2nd February 2023
In mid-2021, WELLSTAR Packaging decided to invest in a BOBST EXPERTFOLD 165 with e-commerce option, which was installed later in the year. As a result, the German manufacturer of corrugated board packaging now has three folder-gluers from BOBST covering the entire range of formats and applications required by customers in the e-commerce market.
"The overall concept of the e-commerce version of the EXPERTFOLD 165 meets our needs. With this machine, we have optimized our efficiency in the production of medium-sized shipping packaging," says Sebastian Würth, Operations Manager at WELLSTAR-Packaging GmbH, explaining the background to the investment decision. The Bräunlingen-based company has produced corrugated packaging for the e-commerce market since 2013, using a BOBST MASTERFOLD 145 folder-gluer configured specifically for its requirements. Four years later, it put into operation a MASTERFOLD 230 for larger packaging formats.
The excellent experience with the quality and reliability of these folder-gluers spoke in favor of once again relying on the Swiss manufacturer when investing in another machine for medium-sized formats.
Production of complex packaging in one pass
All three BOBST folder-gluers at WELLSTAR are equipped with a GYROBOX module, which can rotate blanks at any angle from 00 to 900 in the running direction – optionally from left to right or from right to left. With a high degree of flexibility and at speeds up to 250 m/min, it allows single-pass production of very complex shipping boxes that would otherwise have to pass through the machine twice. This not only reduces manufacturing costs, but also simplifies the production of packaging that require silicone strips and tear tapes, while boxes that do not need to be rotated can pass through the GYROBOX module at full machine speed.
WELLSTAR has had additional video cameras installed on the GYROBOX modules of all three folder-gluers, allowing operators to monitor the production process in great detail. Mr Würth comments, "From our point of view, this inline variant is the best solution for the production of e-commerce packaging."
The GYROBOX on WELLSTAR's MASTERFOLD 230 folder-gluer consists of two large modules. They rotate the blanks of the larger shipping boxes with maximum stability and reliability. "We achieve very good results with this configuration. Production downtime has been reduced to a minimum," reports Mr Würth. "Meanwhile, a comparable GYROBOX configuration is available for the EXPERTFOLD 165 format range, and we will probably have our machine retrofitted with this option in the coming year," says the plant manager, looking to the future.
BOBST is continuously working on improving its machine technology and is thus providing WELLSTAR with new possibilities in packaging production. "This is also an important element for us in our partnership with the Swiss company," adds Mr Würth.
Impressive interaction of technology
BOBST's ongoing development of technology and consistent focus on new requirements are reflected in various components of the EXPERTFOLD 165. For example, the smooth and precise feeding of blanks with the integrated ACCUFEED alignment module contributes significantly to the high reliability in the production of medium-sized e-commerce packaging. With its wider infeed transport, the alignment module guarantees highest folding quality even with heavier materials. Mr Würth explains, "We generally insert our die-cut blanks in a straight line. ACCUFEED ideally supports the smooth feeding of the blanks and their insertion into the EXPERTFOLD 165."
From his point of view, the transport belts are optimally designed for processing corrugated board. The technology for applying silicone strips and self-adhesive tapes is seamlessly integrated thanks to the special POLYVACUUM module. This not only reduces manufacturing costs, but also simplifies production. For quality assurance, the individual machine modules are equipped with sensors, which measure the lengths of the boxes and stop the machine if any deviations from the specified parameters are detected. The control system will indicate on the screen which sensor has triggered the stop, so the operators can quickly eliminate the cause of the problem. In short, the entire technology works together smoothly.
The delivery, which has been specially configured for the production of e-commerce packaging, also fits into this picture. Thanks to its sophisticated technology with separate drive and automatic apron centering, the finished boxes are delivered on the belt aligned perfectly straight.
Fast changeovers
WELLSTAR usually produces order sizes of between about 2,000 and 50,000 in a two-shift operation on the EXPERTFOLD 165, with about four job changeovers per day currently.
As a folder-gluer of the latest generation, the EXPERTFOLD 165 offers even greater ease of operation. For example, all sections have been equipped with individual command panels to shorten the distances for machine operators and enable them to react as quickly as possible. "This means that our operators do not have to rely entirely on the remote control," says Mr Würth explaining the advantage. In addition, they can adjust the transport here via toggle switches without having to navigate through the menu on their remote controls. The infeed transports of the EXPERTFOLD 165 can also be automatically locked and unlocked via a toggle switch, which on its own reduces makeready times by up to five minutes.
"The machine's ease of operation has been very well received by our machine operators. They really enjoy working on the new folder-gluer," says Mr Würth, indicating that the new technology has increased the company's attractiveness as an employer, especially for younger workers.
WELLSTAR stores all job data, including the positions of the transports, in the machine's MATIC control system. For repeat orders, these can be retrieved at the simple touch of a button. In view of the many long-term relationships with customers, the proportion of repeat orders at the company is comparatively high.
All from one single source
"The EXPERTFOLD 165 makes it even easier for us to achieve the high quality we strive for in our e-commerce packaging," says Mr Würth, summarizing the advantages of the new technology. At the same time, its ease of operation and the quick intervention of the machine operators in the event of a malfunction have further minimized waste, which is recycled back into corrugated board production at WELLSTAR.
Being able to cover the market's requirements as completely as possible from a single source is the company's philosophy. "No matter what formats our customers require and whether they need printed or unprinted packaging, there is hardly anything we cannot do for the corrugated board sector," claims Mr Würth, pleased with the flexibility WELLSTAR has achieved in its production process.
In addition to bespoke packaging, the company offers around 350 different standard products, which it ships from stock to anywhere in Germany with the shortest delivery times. Some of these can be ordered via its online store verpackungenbestellen.de. In addition, customers can customize shipping packaging for delivery throughout Europe on the PrintYourBox.de website.
"BOBST will continue to develop its technology and the company responds quickly and proactively to new market requirements. That is unmistakable," says Mr Würth with satisfaction.
With its cornerstones of digitalization, automation, connectivity and sustainability, BOBST's vision for the future sets the tone. For example, WELLSTAR now uses the convenience of the myBOBST online portal to quickly procure spare parts for its folder-gluers. The new European spare parts warehouse in Genk, Belgium, will further improve availability. Furthermore, the company's MASTERFOLD and EXPERTFOLD machines are linked to the Helpline Plus technical support system, which enables BOBST's technical experts to respond quickly online to any issues in production. This also supports the high availability of the machines.
"BOBST's technicians are very competent and friendly, and we maintain a very open relationship with each other," concludes Mr Würth explaining that WELLSTAR also feels in good hands with its machine supplier in this respect. "The machines offer us great flexibility and we can cover the widest range of requirements. It just works."
WELLSTAR
​Founded in 2003, WELLSTAR-Packaging GmbH, based in Bräunlingen and employing around 100 people, is a leading manufacturer of corrugated board packaging with self-adhesive closures. As a sister company of Straub-Verpackungen GmbH, a well-known manufacturer of corrugated board, WELLSTAR can respond flexibly to individual customer requirements. The family-owned company offers its customers complete packaging solutions including converting, hazardous goods packaging, and filling and cushioning systems. WELLSTAR-Packaging and Straub-Verpackungen are part of the Straub Group, which works with a large number of machines from BOBST.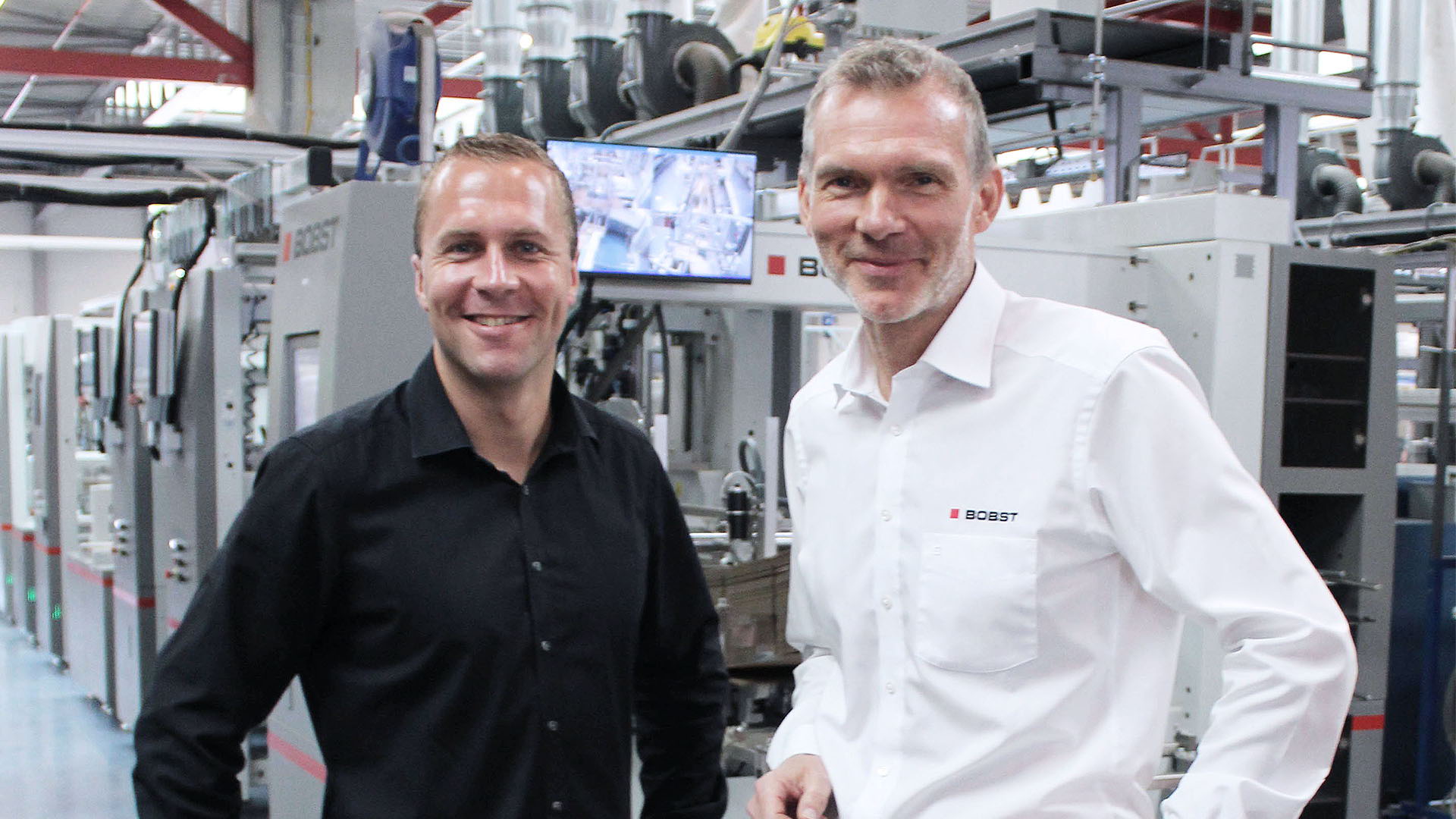 About BOBST
​We are one of the world's leading suppliers of substrate processing, printing and converting equipment and services for the label, flexible packaging, folding carton and corrugated board industries. ​
​Founded in 1890 by Joseph Bobst in Lausanne, Switzerland, BOBST has a presence in more than 50 countries, runs 19 production facilities in 11 countries and employs more than 5800 people around the world. The firm recorded a consolidated turnover of CHF 1.563 billion for the year ended December 31, 2021.
Press contact:
​Gudrun Alex
​BOBST PR Representative
​Tel.: +49 211 58 58 66 66 ​
​Mobile: +49 160 48 41 439
​Email: [email protected]
Follow us:
​Facebook: www.bobst.com/facebook ​
​LinkedIn: www.bobst.com/linkedin ​
​YouTube: www.bobst.com/youtube
PR_BOBST_Wellstar Packaging_02-02-2023_ENG.docx
DOCX - 68 Kb
Download
The release (available in English, German, French, Italian, Spanish, Russian, Chinese and Japanese) and images can be downloaded at https://dam.bobst.com/Go/bCfslYay.