Connecting all the pieces: How BOBST Connect is shaping the future of the packaging world
When there is disruption all around, being connected brings stability.
Mex, Switzerland, 16th February 2021
In the current packaging environment, there is certainly disruption – not only from the COVID-19 pandemic, but also from ever-increasing competition and pressures around shorter times to market, smaller lot sizes, the need for perfect color consistency and quality control, and to fulfil corporate sustainability commitments.
To bring connectivity, BOBST is helping to pioneer a fundamental transformation of the packaging value chain, from a series of isolated silos, to a connected end-to-end overview.
BOBST has announced its vision to shape the future of the packaging world and built a strategy based on four pillars: connectivity, digitalization, automation and sustainability. Underpinning all of the individual solutions is BOBST Connect, an open platform that orchestrates the entire packaging production process and integrates all key components to make packaging production more effective.
"BOBST Connect is a one-stop platform that gives printers, converters and tool manufacturers access to our ecosystem of digital solutions utilizing state of the art Internet of Things (IoT) technology," explained Serge Morisod, Head of IoT Lab at BOBST. "It enables efficient data flow between physical equipment and digital solutions to help rapid, transparent communication throughout the supply chain and optimizing the entire production workflow. Perhaps the most exciting thing is that BOBST Connect is a permanently evolving platform that will deliver more and more as it grows."
BOBST Connect covers five domains: pre-press, production, optimization, maintenance and market. There are several solutions already available across the domains and many more in the pipeline (see summary below, including a few examples of solutions in the pipeline).
BOBST Connect: Current and future solutions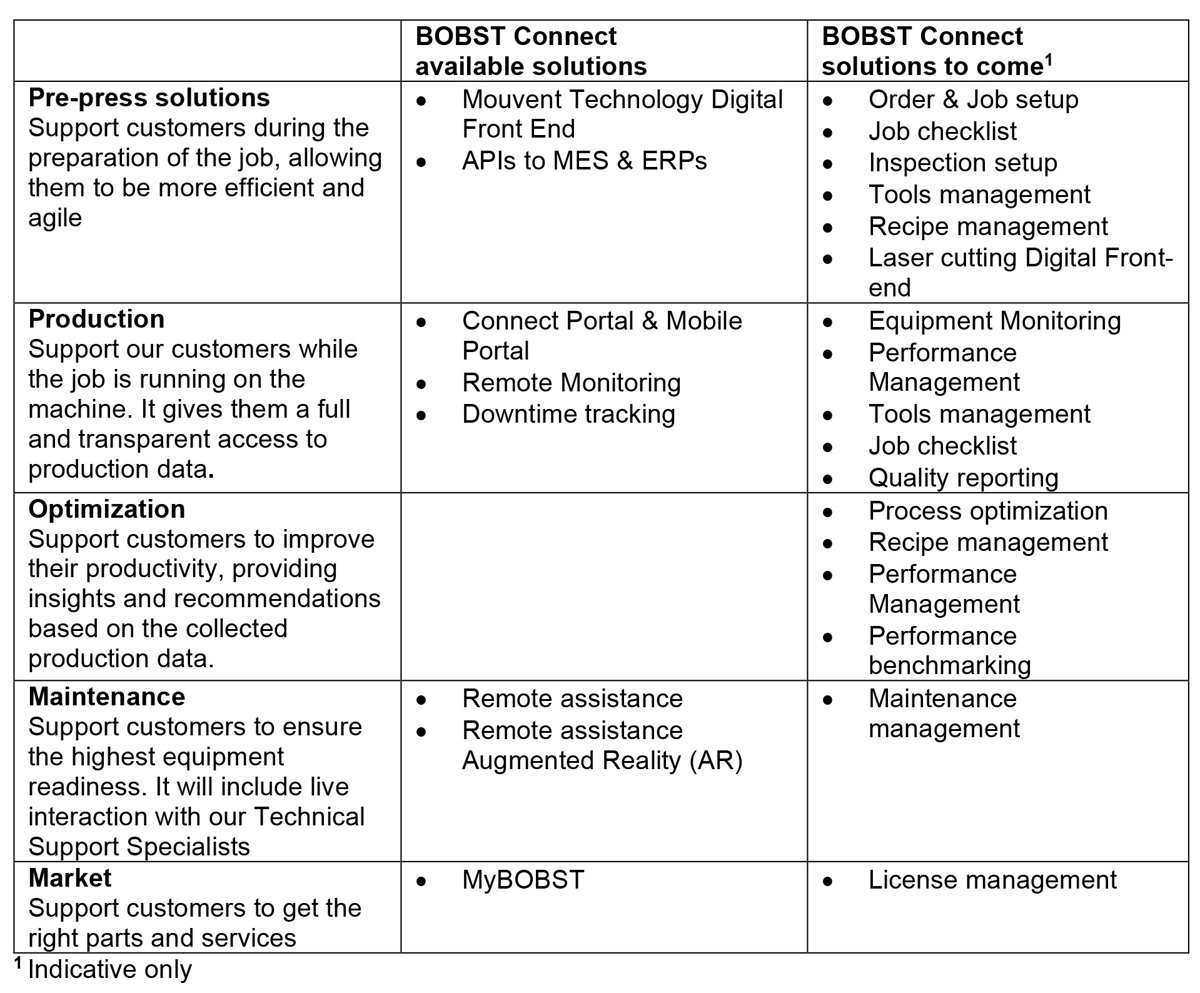 Some of the current BOBST Connect solutions include: Remote Monitoring, a comprehensive production reporting tool designed to quickly access detailed machine production, process and technical data; Remote assistance with Augmented Reality (AR), the first ever remote assistance service in the packaging industry to incorporate a smart headset with AR glasses; and MyBOBST, a personal portal for parts, order tracking, technical information, customer support, special offers and real-time machine data.
"As a first stage, we have established a range of solutions that help the converters to optimize connection and interoperability with other stakeholders in the value chain," said Serge. "New solutions will continue to become available as the platform constantly evolves, enabling our customers to continually adapt to the fast-changing environment. Customers who join us on the BOBST Connect journey will benefit from a deep understanding of the BOBST Connect microcosm, receive frequent functional updates and be able to influence our agile roadmap for the future with feedback."
Some of the exciting solutions in the pipeline for 2021 include the introduction of recipe management in the pre-press stage for certain machines, and the introduction of equipment monitoring capabilities, performance management capabilities and quality control at the production stage. BOBST also plans to introduce the second generation of its popular remote assistance AR service in 2021.
"BOBST Connect will adapt to new operational needs, to the new capabilities of our equipment, and to evolving customer service needs, so we can maintain best in class solution and services to our customers," said Serge. "It is about building a connected digital environment that optimizes the entire production workflow, resulting in greater efficiency, transparency, speed-to-market, rapid decision-making and less waste and mistakes. In a volatile environment, it helps to make our customers future-proof."
About BOBST
We are one of the world's leading suppliers of substrate processing, printing and converting equipment and services for the label, flexible packaging, folding carton and corrugated industries.
Founded in 1890 by Joseph Bobst in Lausanne, Switzerland, BOBST has a presence in more than 50 countries, runs 15 production facilities in 8 countries and employs more than 5 500 people around the world. The firm recorded a consolidated turnover of CHF 1 636 million for the year ended December 31, 2019.
Press contact:
Gudrun Alex
BOBST PR Representative
Tel.: +49 211 58 58 66 66
Mobile: +49 160 48 41 439
Email: gudrun.alex@bobst.com
Follow us:
Facebook: www.bobst.com/facebook
LinkedIn: www.bobst.com/linkedin
Twitter: @BOBSTglobal www.bobst.com/twitter
YouTube: www.bobst.com/youtube
All language versions (English, German, French, Italian, Spanish, Russian, Chinese and Japanese) as well as images are available for download at https://dam.bobst.com/Go/UcuXlOj5.