BOBST makes all the difference
Mex, Switzerland, 18th March 2021
The Armapak company has a rather short, but nonetheless an eventful history. It was founded in 2009 in Łomża, a town in north-eastern Poland approximately 150 km from the capital Warsaw, inhabited by less than 60,000 people. From the beginning it has been focused on the production of corrugated packaging, making use of simple machines, partly with manual production and cooperating with external print service providers. However, when Armapak started collaboration with BOBST in 2015, it rose to a completely different level of capability, efficiency and quality.
Today at Armapak, the equipment is based on BOBST technology, and meets the needs of even the most demanding customers from the dairy, electronics, food and automotive industries. Advanced machinery allows the company to complete all orders in a timely manner - an average of 40 million small and medium-sized boxes per year, with per average order volumes of 5,000-25,000 boxes.
Dairy Eldorado
Podlaskie province, where Łomża is located, is a real "Dairy Eldorado" - three large dairy co-operatives, namely Mlekovita, Mlekpol and Piątnica, have their headquarters within a radius of 50 km from the town, supplying their products to groceries all over the country. You can't wish for a better neighborhood as a manufacturer of corrugated board packaging. This is especially true when one of Armapak's co-founders, Marcin Truszkowski, previously worked as a commercial director in the dairy industry. "That opened a lot of doors for us" - admits his business partner Arkadiusz Nitkowski.
"Together with Marcin we kicked-off with smoked fish packaging sold in Poland and Europe – by the way that company remains our customer until today. We used a primitive rollstock machine back then. We soon began offering our products to dairy companies, which settled in to be the main recipients of our packaging. We bought a single-colour flexo printing machine, but this was a drop in the bucket for our needs. That's why in 2014 we decided to start applying for EU funds" - says Arkadiusz Nitkowski. In 2015, the company obtained the first EU subsidy that allowed Armapak to purchase a BOBST VISIONCUT 1.6 Flatbed die cutting machine and three machines from other suppliers: a folder-gluer, a cutting plotter and a digital printing plotter.
Top quality doesn't age
"The first time we started thinking about investing in a BOBST machine at the turn of 2012/13. Everybody was saying that BOBST is good, but expensive. We already used one BOBST machine at Armapak at that time, a 1961 die-cutter without a cleaning section, which worked flawlessly - recalls Arkadiusz Nitkowski. - Top quality does not age and the machines of the Swiss company are the best proof of that."
For a company that had just celebrated its 5th anniversary choosing top-of-the-range solutions might have seemed risky. But for Armapak's owners, the decision to pursue a costly investment seemed an obvious conclusion to drive their ambitious growth plans: "Since the beginning we reinvested every penny back into this business. In a competitive market you need to stand out in order to survive! These state-of-the-art machines – normally used by big enterprises, not private SME companies - have become the hallmark of our company."
The VISIONCUT 1.6 die-cutting machine arrived at the plant in May 2016. "It was like switching from a Dacia to a Mercedes. Our production capacity has increased exponentially, similarly to the quality and repeatability of the packaging - Arkadiusz Nitkowski emphasizes. - Just two months after purchasing VISIONCUT 1.6 we had to make room for another BOBST, this time a DRO 1628, a 4-colour rotary die-cutter with stacker and four drying sections, also bought with  the support of an EU subsidy." The handling of the entire investment was top-notch, admits Armapak's co-owner: "It was very important that the manufacturer had a local branch in Łódź, which provides service and support with Polish technicians available in one telephone call. BOBST is fully flexible and adapts to customer's needs, delivering training programs at times that is convenient for them."
Before deciding to buy the DRO die-cutter he visited several converters in Switzerland, Italy and Poland with BOBST salespeople. He had to make sure that the machine could cope with printing on coated cardboard. "We decided to buy it because we were satisfied with the capabilities presented by it and, additionally, we concluded that the maintenance of several machines supplied by one manufacturer would be more convenient" - explains Arkadiusz Nitkowski. Operating the machine itself is also easier: the company's largest machine requires only two operators.
Invest or die
It was lack of space, not machinery, which was the biggest obstacle to Armapak's growth from the outset. The company, which employs 50 people, occupies three halls close to each other, with a total area of 4,500 m2 production space, storage and office facilities; the production machines are also separated, which sometimes makes it difficult to complete the production cycle.
However this is about to change, since Armapak is preparing to start the construction works of a new 4,000 m2 hall in May 2021. It will house the vast majority of the machines apart from DRO rotary die-cutter which will remain in the old hall since the company does not want to deprive itself of printing capabilities for the duration of the move. Also, prepress studio, an ink kitchen and a high-storage warehouse will be located there. The latter will allow the plant to increase the share of B-flute packaging in its offering (currently 95% of production is microflute).
The new hall will be equipped with two VISIONCUT 1.6 die-cutting machines and most probably a FFG  924 line to print and glue in-line flap and pre-cut boxes – another BOBST machine for which company from Łomża is applying to be financed with an EU subsidy. "In the short term we plan to buy two additional printing units for the DRO 1628 which should enable us to print more colours and apply varnish in one pass" - reveals Arkadiusz Nitkowski.
The co-owner of Armapak has no doubt that his company's success is predominantly the result of sound investment choices: "Today customers expect not only accuracy, but also quick turnaround to market. Thanks to BOBST machines we are able, if necessary, to complete the entire production process in as little as four days. And that's despite the fact that we have had de-facto reduced our working hours to two shifts five days a week. On top of that we have remained fully flexibility with deliveries, which we make day in and day out."
Arkadiusz Nitkowski admits that the company will soon face another challenge. Due to the high instability of cardboard and the corrugated board market it would be wise to gain independence from external board suppliers. "We're thinking about buying several hectares of land near the town, where a hall with our own corrugator could be erected. When a company uses several million square meters of board every month, it doesn't want to risk its source suddenly drying up."
If only everything could be as predictable as the high quality of BOBST machines...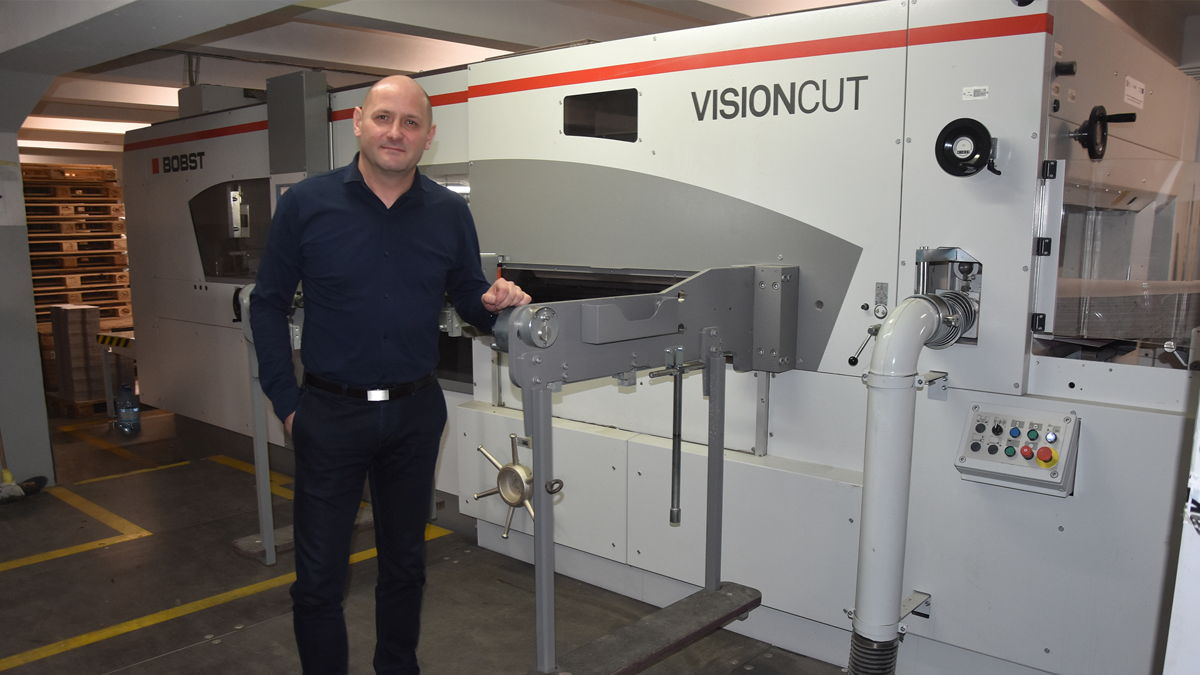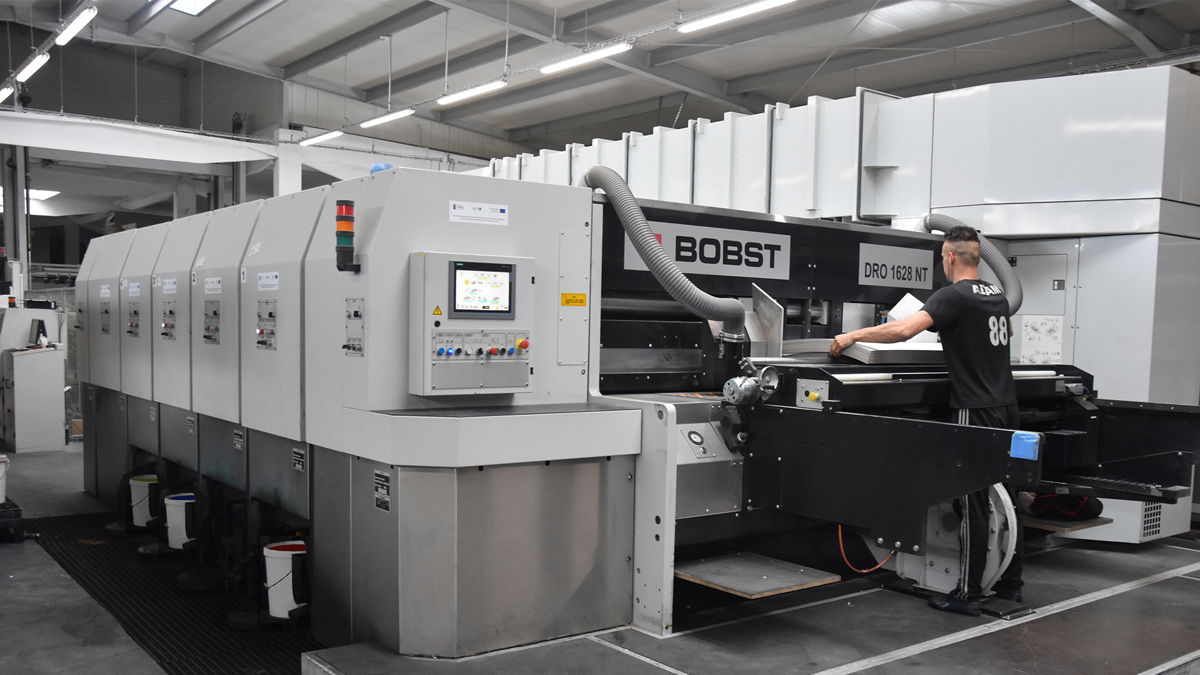 About BOBST
We are one of the world's leading suppliers of substrate processing, printing and converting equipment and services for the label, flexible packaging, folding carton and corrugated industries.
Founded in 1890 by Joseph Bobst in Lausanne, Switzerland, BOBST has a presence in more than 50 countries, runs 15 production facilities in 8 countries and employs more than 5500 people around the world. The firm recorded a consolidated turnover of CHF 1636 million for the year ended December 31, 2019.
Press contact:
Gudrun Alex
BOBST PR Representative
Tel.: +49 211 58 58 66 66
Mobile: +49 160 48 41 439
Email: gudrun.alex@bobst.com
Follow us:
Facebook: www.bobst.com/facebook
LinkedIn: www.bobst.com/linkedin
Twitter: @BOBSTglobal www.bobst.com/twitter
YouTube: www.bobst.com/youtube
All language versions (English, German, French and Polish) as well as images are available for download at https://dam.bobst.com/Go/m37IqKxP.